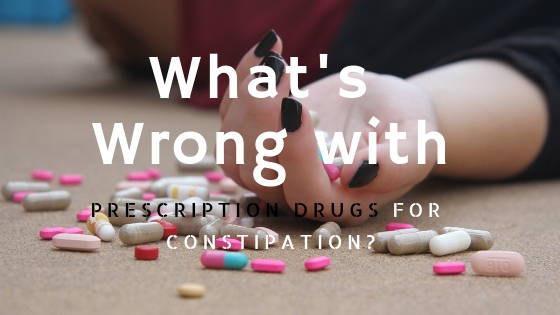 ---
---
Well, maybe nothing. However, you should consider the potential biases of medical professionals when inquiring about the use of prescription medication to treat constipation. There's nothing wrong with questioning doctors and asking for evidence to prove something works without harmful side effects. Along those lines, it's equally important to ask for evidence that suggests something doesn't work.
The logic is the same as when people seek second opinions. If all doctors were equally knowledgeable on specific topics, there would be no need to seek second opinions. However, that's not the case and everyone reading this has likely been in a situation where one doctor contradicted another doctor - I certainly have. Both are M.D.s, so why would one completely disagree with the other?
According to research conducted by Dr. Meredith Portalatin and Dr. Nathaniel Winstead, 20% of the population suffers from chronic constipation and $821 Million is spent on OTC drugs and office visits alone! That doesn't include the prescription meds. Something to think about.
Dr J. Pellow of the University of Johannesburg states, "Conventional laxatives only offer a temporary solution and may cause dependency. Side-effects of conventional laxatives include nausea, vomiting, flatulence, diarrhoea, abdominal pain, electrolyte imbalance and skin eruptions."[3]
---
---
Top 10 Drugs for Constipation and What You Should Know About Them:
MiraLAX® - A laxative using a formulation of Polyethylene glycol (PEG) called PEG 3350 developed by Merck. The most common adverse effects of PEG include abdominal bloating and cramps. However, there are some case reports of severe pulmonary edema that have been reported with the use of PEG.[1] In a study conducted by Dr. Line Modin[4], about 50% more children acquired fever or upper respiratory infection when given PEG 3350 than the group given a placebo. Carries dependency potential.
Dulcolax (Bisacodyl) - Interestingly, clinical trials conducted by Boehringer Ingelheim Pharmaceuticals [2] resulted in an 89% rate of occurrence of some type of disorder including abdominal pain, diarrhea, or headache. This compared to about 11% taking a placebo. That's a big gap over a 4 week trial! Carries dependency potential.
Milk of Magnesia (Magnesium hydroxide) - An osmotic laxative that works by drawing water from the lining of the intestines to soften stool. High amounts of magnesium can cause slow or irregular heartbeat, shallow breathing, rectal bleeding, dehydration, and the common abdominal cramping. It can also interfere with other drugs, so definitely check with your doctor before taking it. It is less likely to be habit forming.
Colace (Docusate sodium) - This is a stool softener available over the counter (OTC). It is metabolized by the liver [10], so long term use could lead to liver problems but there's no evidence of this and that's likely for the same reason there is limited evidence related to various types of enemas. Carries dependency potential.
Colchicine - Research suggests this drug can be used to treat severe, chronic constipation with minimal adverse effects. There isn't much statistical support for long-term efficacy but since 80% of it is metabolized in the liver and 20% is excreted in the urine, renal and liver function should be closely monitored during long-term use [11]. It seems this is mostly prescribed to patients suffering from a mental disability, geriatric patients in nursing homes, and people suffering from opioid induced constipation (OIC).
Linzess, Allergan (Linaclotide) - This is a peptide that works by stimulating chloride production which increases luminal secretion[12]. It's the same end result as other drugs that work by drawing water from the intestinal lining, the modes of action are just different. It's fairly new to the market and is primarily prescribed to treat irritable bowel syndrome with constipation (IBS-C) with success at about 50% clinical significance. Carries low dependency potential. Cost is around $464 for a 30-day supply.
Kristalose, Cephulac, CHOLAC (Lactulose) - A synthetic disaccharide, lactulose easily travels all the way to the large intestine where gut bacteria consume, forming an acidic byproduct that causes fluid to be drawn into the bowel and soften stool. Additionally, ammonia is attracted from the blood stream which supports bowel movements and relieves liver stress [13]. Tons of interference with other drugs[24]. Definitely don't use this with other laxatives or enemas containing mineral oil, castor oil, etc… Carries dependency potential.
Amitiza, Sucampo AG (Lubiprostone) - In clinical trials, the common side-effects of headache, nausea, vomiting, and abdominal pain had a combined rate of occurrence of just less than 50% among participants. As the dosage was increased, there was a corresponding increase in side-effects with nausea being the most pronounced. It should be noted that abdominal pain was actually lower with this drug than others and this could be important to patients. Lubiprostone is in the same class as Linaclotide and the two could be a powerful combination but more research is required. Carries low dependency potential[12]. Cost is around $445 for a 30-day supply.
Cytotec (Misoprostol) - Don't take this if you are planning to become pregnant or if you're already pregnant. This drug is not only regularly used to facilitate abortions, it also carries a risk (albeit small) of congenital defects[14]. I might be effective to treat severe, chronic constipation[15], but I'm not researching this anymore because it's more disgusting than poop. Use something else.
Trulance (Plecanatide) - Very new to the market. Approved by the FDA in January 2018 to treat Chronic Idiopathic Constipation (CIC). It works by stimulating the secretion of chloride and bicarbonate into the intestinal lumen which increases overall intestinal fluid and softens fecal material. It is metabolized in the GI tract, which is a good news for your liver. Dependency potential is assessed to be low based on the mechanics of action but further research is required. The drug looks promising in that it is reported unlikely to interfere with the fetus during pregnancy. Again, further research is required. Cost is around $466 for a 30-day supply. [16]
"A very important rule of thumb is that all irritant laxatives are habit forming. By in large, if it comes in a small package, such as a pill or two, it is an irritant and, therefore, habit forming."[9] - Dr. John A. Frantz
---
In summary, when taking most drugs available on the market to treat constipation, the evidence shows that there is a high probability of experiencing headache, nausea, vomiting, and abdominal pain. The likelihood and severity of the side-effects tends to increase over time and with higher doses.
Most often, there is plenty of evidence that a drug that is prescribed by a doctor will work to treat the symptom. However, clinical trials and scientific studies crafted to prove the effectiveness of a drug do not consequently prove that alternative treatment options don't work. Furthermore, these studies are typically inconclusive when it comes to long term health problems associated with the prescription drugs. Once the pharmaceutical company gets the drug through FDA approval , what incentive is there for anyone to go back 20 years later and assess the correlation of disease and illness to that specific drug?
Listen, it's up to you to decide what goes into your body. Sometimes doctors will say something doesn't work or is dangerous without sufficient evidence to prove their claim. They might cite a study or case where 1 person out of 500 developed a problem from conducting an enema at home and try to pass that as statistical justification for not using enemas.
Ultimately, YOU have to decide if you want to trade the discomfort and problems caused by constipation for the side-effects and problems caused by the drugs you are going to take. For me, I think feeling nauseated is horrible, so I would rather use an enema than take drugs. If I want to be nauseous, I'll grab a bottle of scotch or go on a cruise.
Then, there's the factor of dependency. If you suffer from chronic constipation and decide to make these drugs part of your lifestyle, how do you know you won't develop a dependency? Doctors already suggest that is a possibility - I quoted two earlier in this article [3][9].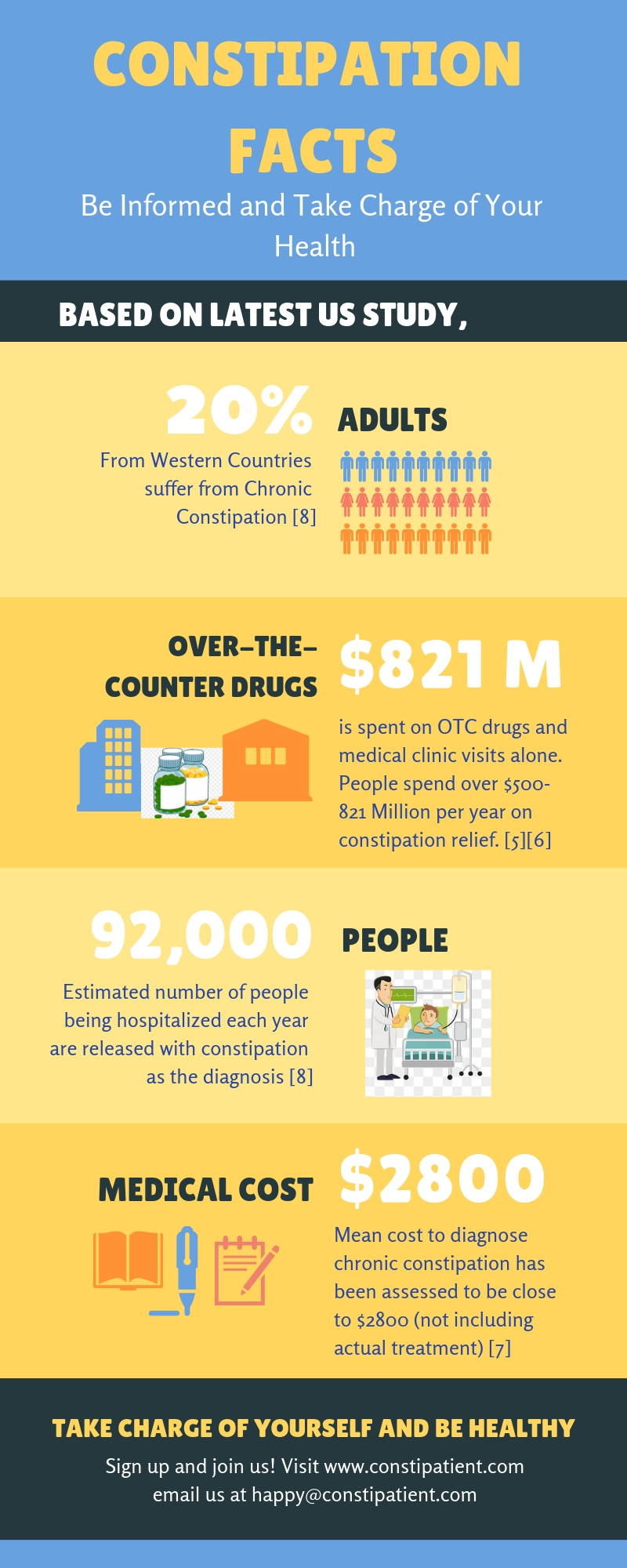 ---
With clinical trials covering a relatively short period of time, It's going to be pretty difficult to understand the long-term impacts of these drugs.
Remember, tests and clinical trials are expensive and the reason they are typically conducted is to get a new product on the market to generate revenue. Why would anyone throw money at a trial over an extremely long period of time, knowing they won't see any return on their investment?