Taking an enema can be a mentally traumatizing experience for beginners. Adding coffee to an enema only adds to the psychological hurdle one must overcome to partake in this ancient method of detoxification. It's not always a pleasant experience but if done correctly, one can minimize discomfort. In this article, we will explain how to tell the difference between normal discomfort and pain caused by something more serious.
Introduce Yourself to the Fundamentals of Enemas
If you haven't read our Beginner's Guide, you should go check it out before you get started. As you learn more about enemas and coffee enemas, you should keep in mind that every human body is different. People respond differently to pain, caffeine, have varying intestinal capacities, different diseases and illnesses, and so on.
You should already understand that a person not in generally good health will likely respond to coffee enema treatments differently than a person in good health.
We always recommend checking with a real M.D. (Medical Doctor) familiar with your unique illness or disease prior to treating yourself with enemas of any kind.
Listen, just because the person in an online group says she/he has been doing coffee enemas for the last 40 years with no problems doesn't mean it's safe for you to do the same. Especially if you have some pre-existing condition. No matter what, you are going to have to accept risk and take personal responsibility for your decisions regarding your health. It's your decision - not your doctor's and not the online community's.
Once you've done your homework and consulted with your doctor, as needed, move on to the enemas.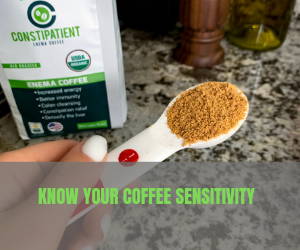 Know Your Sensitivity to Caffeine
Do you drink coffee every day? If so, you're probably not caffeine sensitive. Can you drink coffee at night and go straight to sleep? If so, you definitely aren't caffeine sensitive!
However, some people experience reactions to caffeine that might not be present when administered orally. For example, topical products containing caffeine can cause some people to break out in hives. You might want to know that before you go putting coffee in your butt.
There are really three ways to test your sensitivity to caffeine:
Try it. Drink it. Put some coffee in vegetable oil and let it sit for a while. Then, rub some on your arm and leave it for 15 minutes and see what happens.

Get tested. Go to an allergy clinic or take a genetic test which will tell you if you are sensitive to caffeine.

Start your coffee enema journey by only adding a fraction of the coffee recommended. Add a little bit more each time you perform an enema until you reach the recommended amount.
Know Your Tolerance for Pain
Consider other experiences in your life, like giving blood. Are you one of those high maintenance people that demands a cold towel and a Coke while donating blood? Do you break out in cold sweats and feel faint when you go in for a blood draw for lab tests? Do you scream in agony when you get a paper cut?
Be sure you consider all that and beta-weight your enema pain scale to give yourself a fair assessment. That just means that once you remove the psychological trauma from the pain scale, your stomach and butthole probably don't hurt that much if you are following the advice in this post and the Beginner's Guide.

How Much Discomfort Should you Expect?
Mild discomfort in proportion to the amount of waste stuck in your bowels, your level of hydration, and the amount of fluid you pumped into your brown-eye.
When you are SLOWLY maneuvering the enema tube into your redrum, you should NOT feel any pain. It is normal to feel a slight jolt as the tube passes through sphincters.
Don't forget to lube the tube!
Take a Baseline Enema with Purified Plain Water
To start safely and understand whether pain is from too much fluid being injected into your bowels, you should always start with a low volume enema. A low volume enema is generally considered to by 500mL or less. Just because enema bags and enema buckets can hold 2L, doesn't mean you are supposed to fill'er up when you're just getting started!
Start with a small amount of fluid and think about doing 3-4 enemas with that amount before increasing it. That's super important because each of those 3-4 times is going to tell you something new about your body. Think about it, the very first time you do an enema, it's just going to be weird. You probably won't be able to focus and pay attention to certain aspects of the procedure because you'll be a little freaked out. The second time, if you haven't changed anything else, you'll be more in tune with your body and able to focus more. By the third treatment, you'll either feel comfortable with what you're doing, or you won't.
Follow our Beginner's Guide except don't add the coffee. That means starting with <500mL of purified or distilled plain water enemas. You could do these trial enemas at a rate of once per day, every other day, or once per week. Whatever you're comfortable with.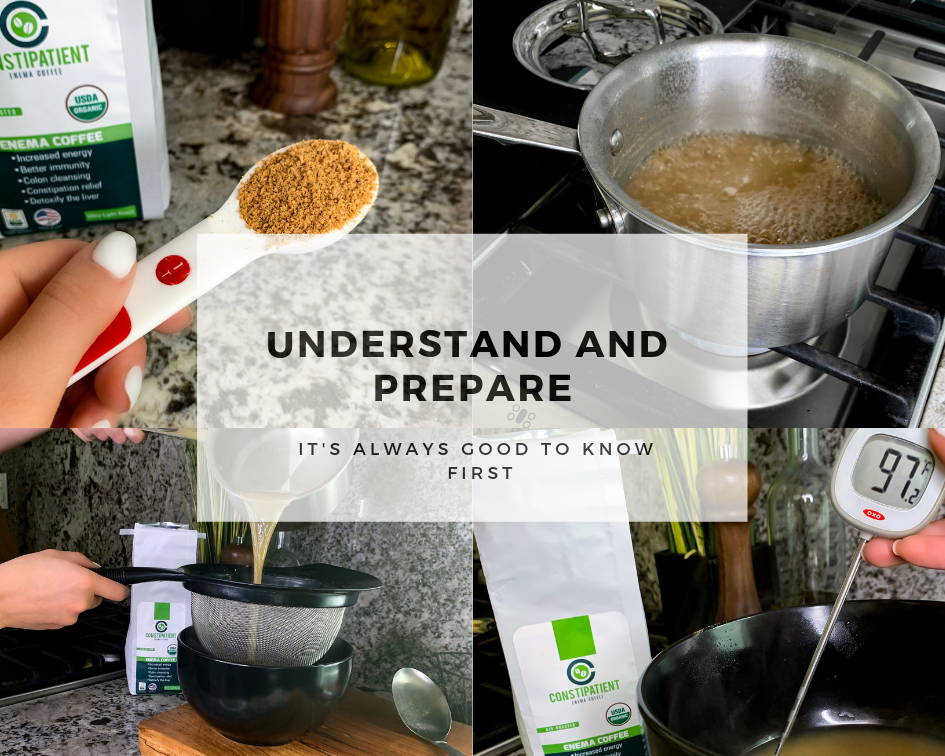 Take Your First Coffee Enema
Now that you've taken enemas with and without coffee, you can compare the feeling. Otherwise, how would you know if any pain was caused by the caffeine, the volume of water, or irritants in the coffee solution?
Go ahead and prepare your first, low volume enema with coffee. Remember to add only a fraction of the coffee recommended on the label. Maybe 1/4 of the recommended dose is a good place to start.
Consider doing your first 3-4 coffee enemas every other day until you reach the recommended dosage on the product label. The reasoning behind this is so that you can assess how you feel over the course of the next 24 hours without introducing any other variables. Don't change anything else in your life such as adding some new supplement or binge drinking alcohol.
After your fourth coffee enema, you'll be up to the recommended dosage according to the product label and you can start adjusting your treatment frequency. We recommend you try 1-2 times per week for a month and then reassess based on how you feel. Sometimes, this is like cooking bacon. You REAAAALLLY want to enjoy the bacon right now, so you crank up the heat on the stove thinking MORE HEAT = SOONER EAT. You quickly discover your equation is flawed as your beautiful bacon burns before your eyes and triggers your smoke alarms. It's best to take coffee enemas slowly and in moderation. Follow a tapering methodology, slowly increasing or decreasing the amount of coffee and the volume of water until your desired results are achieved.
Pain Management Techniques for Coffee Enema Users
Here are a few things to try that are common among people who have been enjoying coffee enemas for years.
Gently massage your lower stomach during the enema.

Follow your coffee enema with a soothing enema.

Make sure you are hydrated before taking your enema.

Keep a journal and document the amount of coffee, the amount of water, the temperature of the solution, how you feel before, how you feel during, how you feel right after pooping, and throughout the day. Do this every time. Use a spreadsheet so you can filter based on the times you felt the best over the course of 6 months.
We would love to have a conversation about other techniques you've found helpful! We are always open to updating our posts based on information provided by our readers, so please leave a comment below!